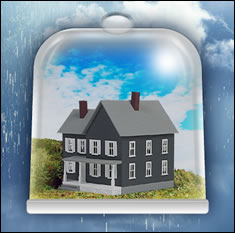 In order to obtain a home loan, a borrower is usually required to have a homeowner's insurance policy in place. Experts agree that the most important question homeowners should ask when shopping for a plan is the A.M. Best rating of each company. New companies pop up all the time, and homeowners need to be informed about what a company can offer in terms of protection against potential risk.

Consumers should also become familiar with the liability portion of their policy. ACV (Actual Cash Value) policies pay claims based upon the depreciated value of the item or items lost. However, replacement cost policies will pay the full cost required to actually replace the items.

To ensure that the right amount of insurance is purchased, homeowners should obtain an appraisal every five years or so. If additions are made or remodeling takes place, homeowners will need to revisit and possibly upgrade their plan as well.

Experts say there are several important mistakes homeowners should be especially careful to avoid. The first is being dishonest on an application. This is absolute grounds to reject any claim. Secondly, if the property contains a detached structure - such as a guest house, a barn, a workshop, or a garage - be sure to include each one on the insurance policy. Finally, do not over-insure. Homeowners can save a little money by insuring only those items and structures that need to be replaced.